Shop::AliExpress: AliExpress product parser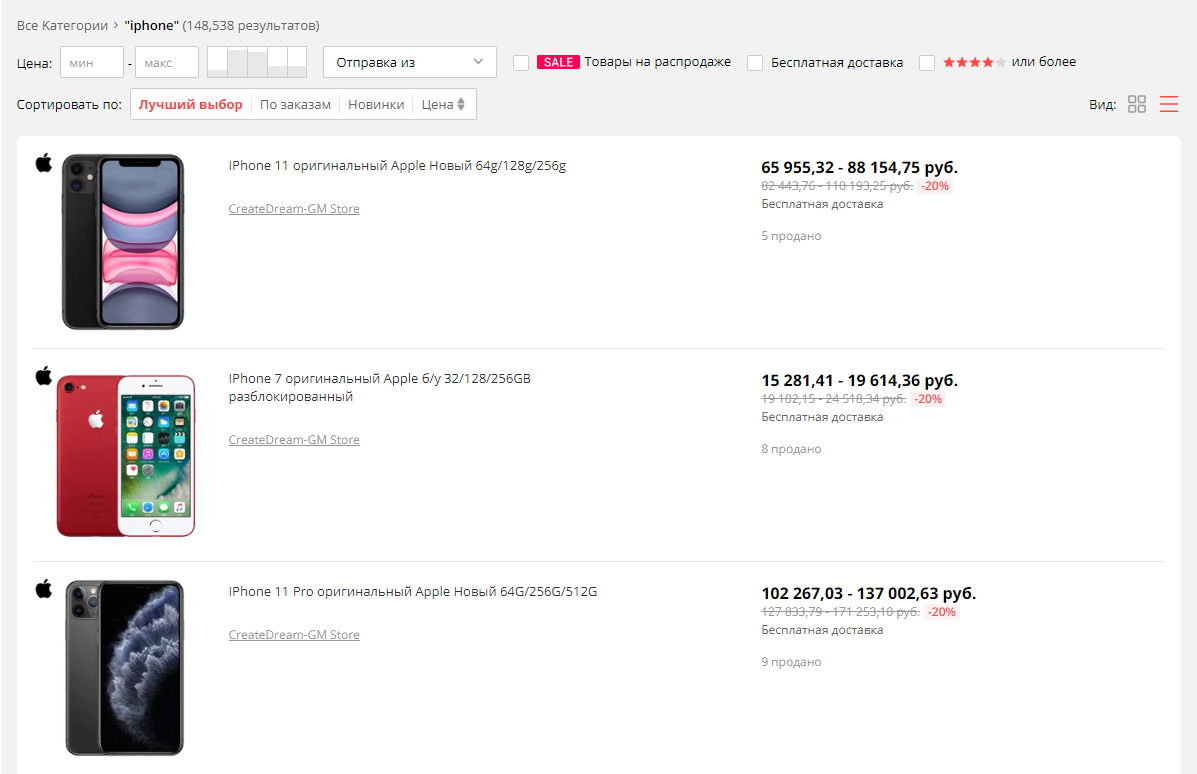 Shop::AliExpress product parser overview​
Using the AliExpress product parser, you can collect all the information from the product card by specifying a list of search queries (names of products you are interested in). The Aliexpress parser is capable of collecting colossal amounts of information, you can receive data about products, collect a database of links to products, track the dynamics of prices for products and delivery, collect an assessment of the rating and the number of reviews for the product, collect images of products, and get a list of stores.
Thanks to the multi-threaded work of A-Parser, the AliExpress product parser allows you to collect up to 200000 links per minute.
The functionality of A-Parser allows you to save parsing settings for further use (presets), set a parsing schedule, and much more. You can use automatic query multiplication, substitution of subqueries from files, enumeration of alphanumeric combinations and lists to get the maximum possible number of results.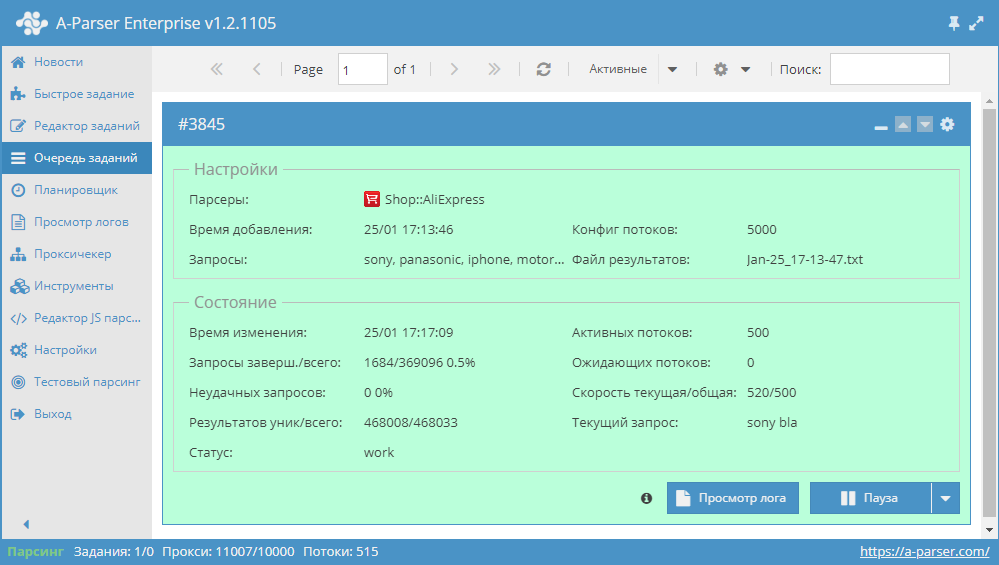 Collected data​
Link to the product
Name
Price
Delivery price
Product type (new or used)
Rating
Number of orders
Link to the image
Store name and link to it

Use cases​
Collecting links to products
Tracking the dynamics of prices for products
Tracking the dynamics of prices for product delivery
Rating assessment of products, number of reviews
Collecting images of products
Collecting a list of stores for products and links to them
Query examples​
As queries, you need to specify the names of products, just as if you were entering them directly into the AliExpress search form, for example:
iphone 11pro max




Беспроводная Bluetooth-мышь, домашняя игровая мышь




Карта памяти Micro Sd Sandisk, карта Micro Sd Class10 TF




AMD Ryzen R3 2200U



Query substitutions​
You can use built-in macros to multiply queries, for example, we want to get a very large database of products by brand,
In the query format, we will specify the enumeration of characters from a to zzzz, this method allows you to rotate the search output as much as possible and receive many new unique results:
This macro will create 475254 additional queries for each original search query, which in total will give 4 x 475254 = 1901016 search queries, an impressive figure, but this is not a problem for A-Parser.
Result output options​
Output to csv​
You can use Template-Toolkit template engine to output the result to csv, for example, we will write to a csv file such columns: Link to the product, Product name, Min.price, Max.price, Rating, Store name
Result format:
[

%

  

FOREACH

 item 

IN

 serp

;

 




tools

.

CSVline

(

item

.

link

,

 item

.

title

,

 item

.

price

,

 item

.

rating

,

 item

.

store

 

)

;




END

;

 

%

]



Result example:
https://www.aliexpress.com/item/32829794248.html,"Apple iPhone 7 Plus Factory Original Mobile Phone 4G LTE 5.5"" Dual Core A10 12MP RAM 3GB ROM 128GB Cell phone NFC",267.12,4.6,"Topco-The Reliable Genuine Mobile Phone Store"




https://www.aliexpress.com/item/32874581363.html,"Apple iPhone 7 4G LTE Cell Phone 32/128GB/256GB IOS 12.0MP + 7.0MP Camera Quad-Core Fingerprint 4.7"" 4K Video",165.9,4.8,"Rainbow--The Most Reliable Original Mobile Phones Store"




https://www.aliexpress.com/item/32883871759.html,"Apple iPhone 7 Plus 3GB RAM 32/128GB/256GB ROM IOS Quad-Core 12.0MP Camera Fingerprint Original iPhone7 Plus LTE Mobile Phone",259,4.8,"HongKong CINGO Technology Co., Ltd."




https://www.aliexpress.com/item/32883875336.html,"Apple iPhone 7 4G LTE Mobile phone IOS Quad Core 2GB RAM 32/128GB/256GB ROM 12.0MP Fingerprint Original unlocked iphone7",179.6,4.9,"HongKong CINGO Technology Co., Ltd."




https://www.aliexpress.com/item/32874589153.html,"Apple iPhone 7 2GB RAM 32/128/256GB ROM 4.7"" IOS Cell Phone 12.0MP Camera Quad Core 4K Video LTE 1960mAh Touch ID",168.99,4.4,"Rainbow--The Most Reliable Original Mobile Phones Store"




https://www.aliexpress.com/item/32846368547.html,"100% Original iPhone 7 Quad Core 4.7 Inch 2GB RAM 32/128/256GB ROM 12.0MP Camera LTE IOS IPS Touch ID Unlocked Used Mobile Phone",171.61,4.8,"Refly-Original mobile phone store"




https://www.aliexpress.com/item/32979565350.html,"Original Apple iPhone 7 Plus Fingerprint 3GB RAM 32/128GB/256GB IOS Cell Phone LTE 12.0MP Camera Apple Quad-Core12MP Cellphone",254.74,5,"Ecoolkey Technology Co.,Ltd"




https://www.aliexpress.com/item/32795729059.html,"Apple iPhone 7 Plus GSM Unlocked 5.5"" 3GB Ram 32/128/256GB Rom iOS 4G Lte 12.0MP Dual-Rear Camera 2910mA Fingerprint Smartphones",263,5,"Summer Technology Co.,Ltd."




https://www.aliexpress.com/item/32881647077.html,"Original Apple iPhone 7&iPhone 7 plus 4G LTE IOS 12.0MP Camera Touch ID 32GB/128GB/256GB RO



Export of a list of links​
Result format:
Result example:
https://www.aliexpress.com/item/32881647077.html




https://www.aliexpress.com/item/32828669111.html




https://www.aliexpress.com/item/32846368547.html




https://www.aliexpress.com/item/32874589153.html




https://www.aliexpress.com/item/32883875336.html




https://www.aliexpress.com/item/32851366164.html




https://www.aliexpress.com/item/32855645663.html




https://www.aliexpress.com/item/32815214672.html




https://www.aliexpress.com/item/33011711400.html




https://www.aliexpress.com/item/32881200824.html




https://www.aliexpress.com/item/32738738425.html




https://www.aliexpress.com/item/32883871759.html




https://www.aliexpress.com/item/32829794248.html




https://www.aliexpress.com/item/32822568852.html




https://www.aliexpress.com/item/32817751643.html




https://www.aliexpress.com/item/32824607605.html




https://www.aliexpress.com/item/33005326314.html




https://www.aliexpress.com/item/32979565350.html




https://www.aliexpress.com/item/32795729059.html




https://www.aliexpress.com/item/1005002617887161.html




https://www.aliexpress.com/item/4000007752405.html




https://www.aliexpress.com/item/1005002537902461.html




https://www.aliexpress.com/item/1005002970085353.html



Output of names and prices​
Result format:
$serp

.

format

(

'$title, $price, $rating\n'

)

;



Result example:
Apple iPhone 7 4G LTE Cell Phone 32/128GB/256GB IOS 12.0MP + 7.0MP Camera Quad-Core Fingerprint 4.7" 4K Video, 165.9, 4.8




Used Unlocked Original Apple iPhone 7  Quad Core 4.7Inch 12.0MP Camera 4G LTE Mobile Phone Fingerprint Touch ID, 154.08, 4




Apple iPhone 7 Plus Factory Original Mobile Phone 4G LTE 5.5" Dual Core A10 12MP RAM 3GB ROM 128GB Cell phone NFC, 267.12, 4.6




Apple iPhone 7 2GB RAM 32/128/256GB ROM 4.7" IOS Cell Phone 12.0MP Camera Quad Core 4K Video LTE 1960mAh Touch ID, 168.99, 4.4




100% Original iPhone 7 Quad Core 4.7 Inch 2GB RAM 32/128/256GB ROM 12.0MP Camera LTE IOS IPS Touch ID Unlocked Used Mobile Phone, 171.61, 4.8




Apple iPhone 7 Plus 3GB RAM 32/128GB/256GB IOS Cell Phone LTE 12.0MP Camera Apple Quad-Core Fingerprint 12MP 2910mA, 261, 4.8




Apple iPhone 7 Factory Unlocked Original Mobile Phone 4G LTE 4.7" Dual Core A10 12MP RAM 2GB ROM 32GB/128GB/256GB Cell phone NFC, 171.36, 4.8




Apple iPhone 7 4G LTE Mobile phone IOS Quad Core 2GB RAM 32/128GB/256GB ROM 12.0MP Fingerprint Original unlocked iphone7, 179.6, 4.9




Apple iPhone 7 Plus 3GB RAM 32/128GB/256GB ROM IOS Quad-Core 12.0MP Camera Fingerprint Original iPhone7 Plus LTE Mobile Phone, 259, 4.8




Original Apple iPhone 7 4G LTE Mobile phone Quad Core 2GB RAM 32G/128/256GB IOS  12.0MP Fingerprint  Cell Phones, 171.75, 4.4




Apple iPhone 7 Plus GSM Unlocked 5.5" 3GB Ram 32/128/256GB Rom iOS 4G Lte 12.0MP Dual-Rear Camera 2910mA Fingerprint Smartphones, 263, 5




Unlocked Original Apple iPhone 7 / iPhone 7 Plus Quad-core Mobile phone 12.0MP camera 32G/128G/256G Rom IOS Fingerprint phone, 171.32, 4.5




Original Apple iPhone 7 Plus Factory Unlocked Mobile Phone 12MP Two Camera Wide-Angle 4G LTE 5.5" Quad Core A10 3G RAM 128G ROM, 259.94, 4.9




Original Apple iPhone 7 Plus Fingerprint 3GB RAM 32/128GB/256GB IOS Cell Phone LTE 12.0MP Camera Apple Quad-Core12MP Cellphone, 254.74, 5




Original Apple iPhone 7 32GB/128GB 4G LTE iphone7 Mobile phone IOS Quad Core cellphone  4.7'' 12.0 MP Fingerprint Smartphone, 177.66, 4.4



Output with variable names​
Result format:
$serp

.

format

(

'Название: $title, цена: $price, цена доставки: $max_price\n'

)

;



Result example:
Название: Apple iPhone 7 4G LTE Cell Phone 32/128GB/256GB IOS 12.0MP + 7.0MP Camera Quad-Core Fingerprint 4.7" 4K Video, цена: 165.9, цена доставки: Free Shipping




Название: Used Unlocked Original Apple iPhone 7  Quad Core 4.7Inch 12.0MP Camera 4G LTE Mobile Phone Fingerprint Touch ID, цена: 154.08, цена доставки: Free Shipping




Название: Apple iPhone 7 Plus Factory Original Mobile Phone 4G LTE 5.5" Dual Core A10 12MP RAM 3GB ROM 128GB Cell phone NFC, цена: 267.12, цена доставки: Free Shipping




Название: Apple iPhone 7 Plus 3GB RAM 32/128GB/256GB IOS Cell Phone LTE 12.0MP Camera Apple Quad-Core Fingerprint 12MP 2910mA, цена: 261, цена доставки: 11.22




Название: 100% Original iPhone 7 Quad Core 4.7 Inch 2GB RAM 32/128/256GB ROM 12.0MP Camera LTE IOS IPS Touch ID Unlocked Used Mobile Phone, цена: 171.61, цена доставки: Free Shipping




Название: Apple iPhone 7 Factory Unlocked Original Mobile Phone 4G LTE 4.7" Dual Core A10 12MP RAM 2GB ROM 32GB/128GB/256GB Cell phone NFC, цена: 171.36, цена доставки: Free Shipping



Saving in SQL format​
Result format:
 

[

%

  

FOREACH

 item 

IN

 p1

.

serp

;

   

"INSERT INTO serp VALUES('"

 _ item

.

title

 _ 

"', '"

;

 item

.

store_link

 _ 

"', '"

;

    item

.

ship_price

 _ 

"', '"

;

   item

.

price

 _ 

"')\n"

;

 

END

  

%

]



Result example:
 INSERT INTO serp VALUES('Apple iPhone 7 Plus 3GB RAM 32/128GB/256GB IOS Cell Phone LTE 12.0MP Camera Apple Quad-Core Fingerprint 12MP 2910mA', 'https://www.aliexpress.com/store/1110648', '', '272.22')




INSERT INTO serp VALUES('Apple iPhone 7 4G LTE Cell Phone 32/128GB/256GB IOS 12.0MP + 7.0MP Camera Quad-Core Fingerprint 4.7" 4K Video', 'https://www.aliexpress.com/store/1052671', 'Free Shipping', '165.9')




INSERT INTO serp VALUES('Apple iPhone 7 Plus 3GB RAM 32/128GB/256GB ROM IOS Quad-Core 12.0MP Camera Fingerprint Original iPhone7 Plus LTE Mobile Phone', 'https://www.aliexpress.com/store/1110648', '', '270.22')




INSERT INTO serp VALUES('Apple iPhone 7 4G LTE Mobile phone IOS Quad Core 2GB RAM 32/128GB/256GB ROM 12.0MP Fingerprint Original unlocked iphone7', 'https://www.aliexpress.com/store/1110648', '', '190.82')




INSERT INTO serp VALUES('Apple iPhone 7 2GB RAM 32/128/256GB ROM 4.7" IOS Cell Phone 12.0MP Camera Quad Core 4K Video LTE 1960mAh Touch ID', 'https://www.aliexpress.com/store/1052671', 'Free Shipping', '168.99')




INSERT INTO serp VALUES('100% Original iPhone 7 Quad Core 4.7 Inch 2GB RAM 32/128/256GB ROM 12.0MP Camera LTE IOS IPS Touch ID Unlocked Used Mobile Phone', 'https://www.aliexpress.com/store/1194206', 'Free Shipping', '171.61')




INSERT INTO serp VALUES('Original Apple iPhone 7 Plus Fingerprint 3GB RAM 32/128GB/256GB IOS Cell Phone LTE 12.0MP Camera Apple Quad-Core12MP Cellphone', 'https://www.aliexpress.com/store/709663', '', '307.37')




INSERT INTO serp VALUES('Original Apple iPhone 7&iPhone 7 plus 4G LTE IOS 12.0MP Camera Touch ID 32GB/128GB/256GB ROM Fingerprint used Smartphone', 'https://www.aliexpress.com/store/1309027', 'Free Shipping', '148')



Dumping results to JSON​
Result format:
[

%

 data 

=

 

{

}

;

 data

.

items

 

=

 

[

]

;

  

FOREACH

 i 

IN

 p1

.

serp

;

 item 

=

 

{

}

;

 item

.

link

 

=

 i

.

link

;

 item

.

name

 

=

 i

.

title

;

 item

.

price

 

=

 i

.

price

;

 data

.

items

.

push

(

item

)

;

  

END

;

   result 

=

 

{

}

;

 result 

=

 data

;

 result

.

json

;

 

%

]




{




    

"items"

:

 

[




        

{




            

"link"

:

 

"https://www.aliexpress.com/item/32874581363.html"

,




            

"name"

:

 

"Apple iPhone 7 4G LTE Cell Phone 32/128GB/256GB IOS 12.0MP + 7.0MP Camera Quad-Core Fingerprint 4.7\" 4K Video"

,




            

"price"

:

 

165.9




        

}

,




        

{




            

"link"

:

 

"https://www.aliexpress.com/item/32874589153.html"

,




            

"name"

:

 

"Apple iPhone 7 2GB RAM 32/128/256GB ROM 4.7\" IOS Cell Phone 12.0MP Camera Quad Core 4K Video LTE 1960mAh Touch ID"

,




            

"price"

:

 

168.99




        

}

,




        

{




            

"link"

:

 

"https://www.aliexpress.com/item/32846368547.html"

,




            

"name"

:

 

"100% Original iPhone 7 Quad Core 4.7 Inch 2GB RAM 32/128/256GB ROM 12.0MP Camera LTE IOS IPS Touch ID Unlocked Used Mobile Phone"

,




            

"price"

:

 

171.61




        

}

,




        

{




            

"link"

:

 

"https://www.aliexpress.com/item/32855645663.html"

,




            

"name"

:

 

"Used Unlocked Original Apple iPhone 7  Quad Core 4.7Inch 12.0MP Camera 4G LTE Mobile Phone Fingerprint Touch ID"

,




            

"price"

:

 

154.08




        

}

,




        

{




            

"link"

:

 

"https://www.aliexpress.com/item/32883875336.html"

,




            

"name"

:

 

"Apple iPhone 7 4G LTE Mobile phone IOS Quad Core 2GB RAM 32/128GB/256GB ROM 12.0MP Fingerprint Original unlocked iphone7"

,




            

"price"

:

 

179.6




        

}

,




        




    

]




}




Possible settings​
| Parameter | Default value | Description |
| --- | --- | --- |
| Pages count | 5 | Number of pages to parse |
| Parse not found | ☑ | Determines whether to parse the output if the resource reported that nothing was found for the specified query |