Social::Instagram::Profile - Instagram parser. Data collection from Instagram profiles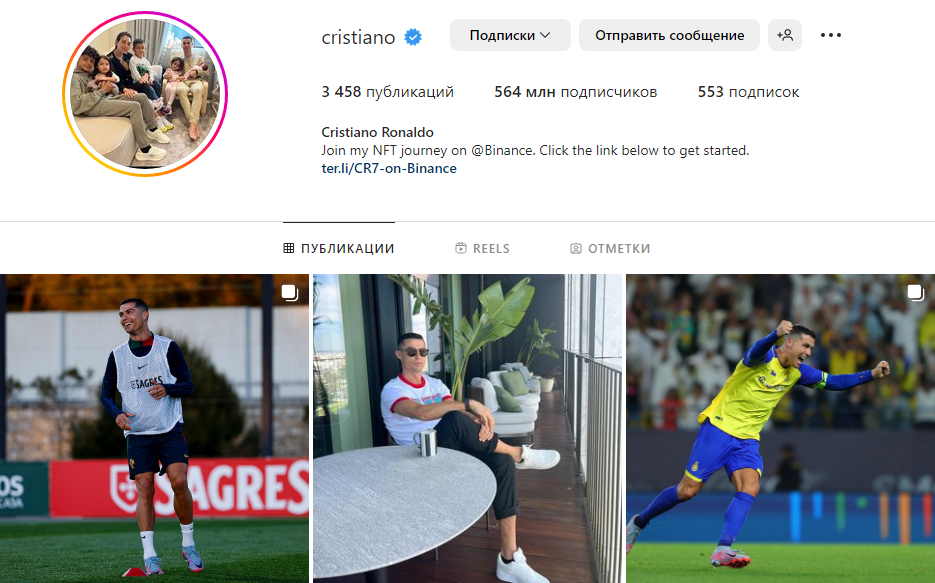 Overview of Social::Instagram::Profile parser​

Social::Instagram::Profile
- parses profile data from Instagram. The Instagram parser allows you to organize mass data parsing from user profiles. Among the collected data are nickname, name, biography, website, number of posts, etc. The full list of collected data is in the corresponding section.
A-Parser functionality allows you to save parsing settings for Social::Instagram::Profile parser for further use (presets), set up a parsing schedule, and much more.
Saving results is possible in the format and structure that you need, thanks to the built-in powerful Template Toolkit that allows you to apply additional logic to the results and output data in various formats, including JSON, SQL, and CSV.
info
The parser uses data from an authorized account. To work with the parser, it is necessary to specify a value for the option: cookie.
Obtaining the mandatory authentication option​
Spoiler: how to find a cookie?

Go to any profile after opening debug mode by pressing F12. Using the https://www.instagram.com/api/v1/users/web_profile_info/?username= string, find the necessary request that stores values for the parser. Go to the request and copy the value from the cookie parameter.
Use cases for Social::Instagram::Profile parser​
Collecting links to posts​
Override the Result format option, set the value to $posts.format('$link\n').
Override the Posts pages count option, select All from the list.
Specify profile links as requests.
Download example
List of collected data​
Nickname
Full name
Biography
Website
Number of posts
Number of followers
Number of followings
Link to author's profile
Channel
Is the profile a business profile
Is the profile private
Is the profile verified
Link to avatar
Link to Facebook page
Post information
Number of video views
Profile email
Author's publications

Type
Link
Text
Time
Number of comments
Number of likes
Link to media
Publication height
Publication width
Link to publication author
Location
Number of views (video)

Subscriptions and subscribers

Identifier
Link to profile
Nickname
Full name
Is the profile private
Is the profile verified
Link to avatar
Is the user a possible fraudster
Example of result:
cristiano: Cristiano Ronaldo, followers: 579975336, following: 558




Posts:




https://www.instagram.com/p/CrmIE7tNddZ/




https://www.instagram.com/p/Crg1arRNXvX/




https://www.instagram.com/p/CrUE3a6tRs4/




https://www.instagram.com/p/CrK_zvLAofv/




https://www.instagram.com/p/CrGMggNq1Cb/




https://www.instagram.com/p/CrEHoMbK0_C/




https://www.instagram.com/p/Cq8QZGDIix1/




https://www.instagram.com/p/CqxINLiOCPK/




https://www.instagram.com/p/CqoZ8pRo91y/




https://www.instagram.com/p/CqjQjCII98k/




https://www.instagram.com/p/CqeFZMFotaH/




https://www.instagram.com/p/CqcihSbAxaH/





Followers:




https://www.instagram.com/madhu55745/




https://www.instagram.com/akoy4615/




https://www.instagram.com/kiiitank/




https://www.instagram.com/erzhi19/




https://www.instagram.com/na898poli/




https://www.instagram.com/omronnmaaj/




https://www.instagram.com/abhishak8474/




https://www.instagram.com/karankumarkaran110/




https://www.instagram.com/engin_altannnn/




https://www.instagram.com/biel.full/






Followings:




https://www.instagram.com/rafanery.hrpz/




https://www.instagram.com/hubermanlab/




https://www.instagram.com/insparya_italy/




https://www.instagram.com/gerson_rodrigues_11/




https://www.instagram.com/bernardorsousa/




https://www.instagram.com/eminem/




https://www.instagram.com/spl/




https://www.instagram.com/toto.restaurants/




https://www.instagram.com/thetoolsbook/




https://www.instagram.com/rauwalejandro/




https://www.instagram.com/francisngannou/




https://www.instagram.com/sultan_alghannam/




Instagram parser usage options​
Collecting profile information
Collecting publications
Collecting subscribers
Collecting subscriptions
Parsing links to posts for use in Social::Instagram::Post
Request examples​
As requests, it is necessary to specify the profile nickname, for example:
Possible settings for the Instagram parser​
| Parameter | Default value | Description |
| --- | --- | --- |
| cookie | | It is necessary to specify Cookie beforehand |
| x-csrftoken | | Ability to specify x-csrftoken (if necessary) |
| x-ig-app-id | 936619743392459 | Ability to specify x-ig-app-id (if necessary) |
| Posts pages count | 1 | Number of pages with posts |
| Followers pages count | 1 | Number of pages with followers |
| Followings pages count | 1 | Number of pages with subscriptions |