Social::Instagram::Tag - Parser for posts by tags on Instagram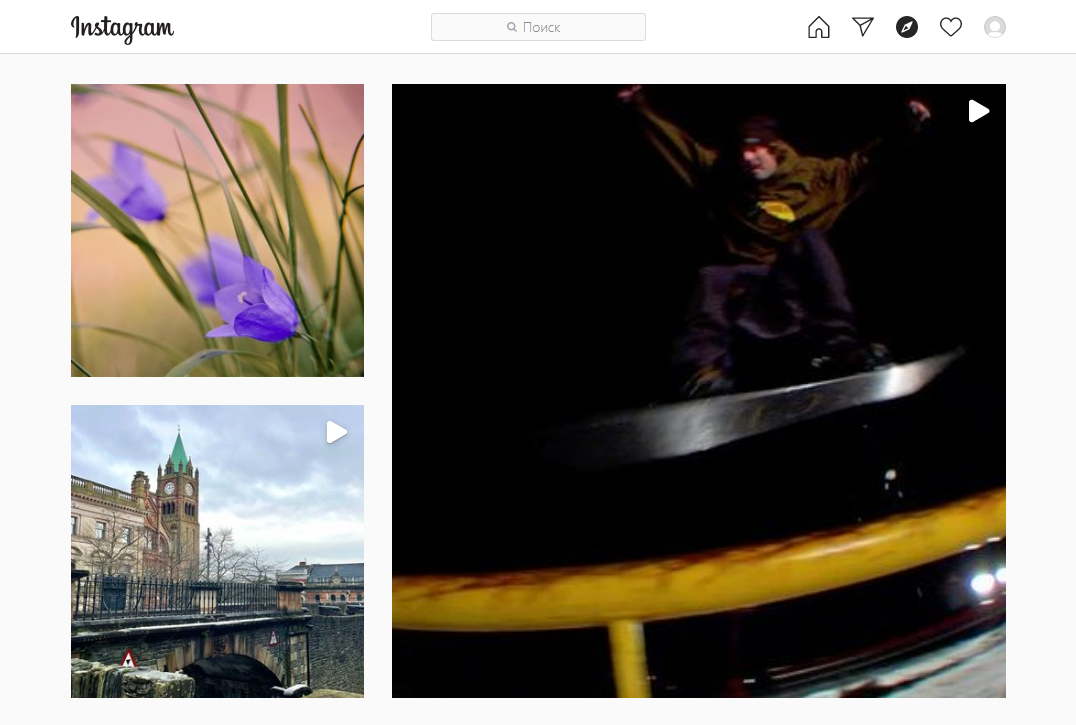 Overview of Social::Instagram::Tag parser​

Social::Instagram::Tag
- parses posts by tags from Instagram. Automated collection of all data: post type, text, publication date, number of comments, number of likes and much more. Together with the comment text, a link to the author's profile, the number of likes under it and the time it was created are also collected.
You can use automatic query replication, substitution of subqueries from files, enumeration of alphanumeric combinations and lists to get the maximum possible number of results. Using results filtering, you can immediately clean up the result by removing all unnecessary garbage (using minus-words).
The A-Parser functionality allows you to save the parsing settings of the Social::Instagram::Tag parser for further use (presets), set a parsing schedule and much more.
Saving results is possible in the form and structure that you need, thanks to the built-in powerful Template Toolkit template engine, which allows you to apply additional logic to the results and output data in various formats, including JSON, SQL and CSV.
Use cases for the Social::Instagram::Tag parser​
Collecting all posts by tags​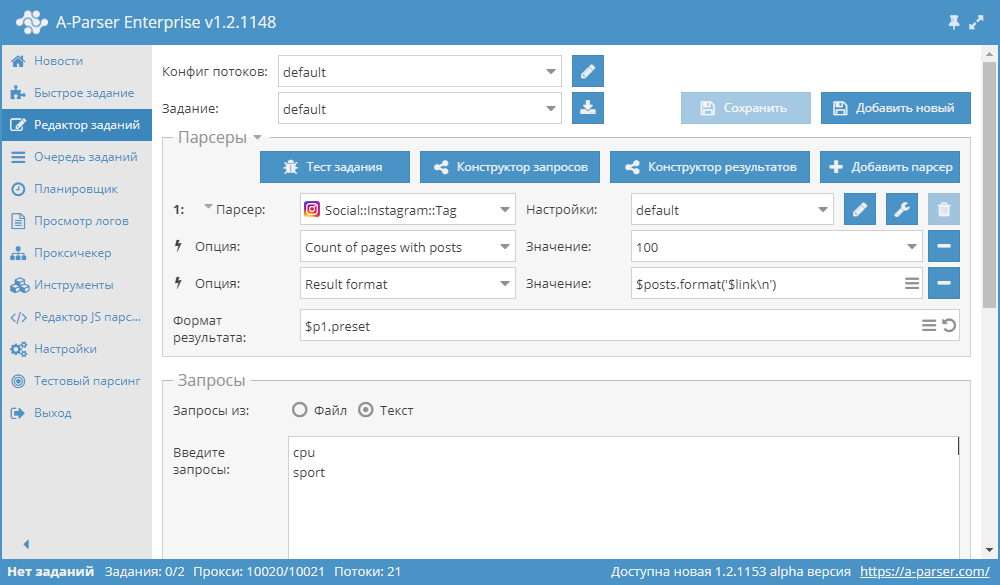 Override the Count of pages with posts option, select 100 from the list.
Override the Result format option, set $posts.format('$link\n') as the value.
Specify tags as queries.
Download example
List of collected data​
Link to avatar
Number of posts
Two arrays with posts and posts from TOP:
Post type
Post link
Text
Publication date (in Unix format)
Number of comments
Number of likes
Link to icon
Width and height of the image
Link to avatar
Number of posts
Example of the result:
cpu: total posts - 303657  




Posts:  




https://www.instagram.com/p/B0FtUJboZC0/  




https://www.instagram.com/p/B0Fs7maCIvq/  




https://www.instagram.com/p/B0FszBRgOoS/  




https://www.instagram.com/p/B0FrgVTBgFI/  




https://www.instagram.com/p/B0FqeKvBSjC/  




https://www.instagram.com/p/B0FogPGnOIG/  




https://www.instagram.com/p/B0FoHSuCSUr/  




https://www.instagram.com/p/B0Fl5JWgWts/  




https://www.instagram.com/p/B0Fj_P0ji83/  




https://www.instagram.com/p/B0Fgn5YHCiC/  




https://www.instagram.com/p/B0Fd4uvAOyf/  




https://www.instagram.com/p/B0FdfGjnVVs/  




https://www.instagram.com/p/B0FdLEDgrTe/  




https://www.instagram.com/p/B0FdEORCa0Z/



Usage options​
Examples of queries​
You need to specify a tag as a query, for example:
Possible settings​
| Parameter | Default value | Description |
| --- | --- | --- |
| Count of pages with posts | 10 | Number of pages with posts |
| Treat disconnect as IP ban | ☑ | Consider a connection break as an IP ban |